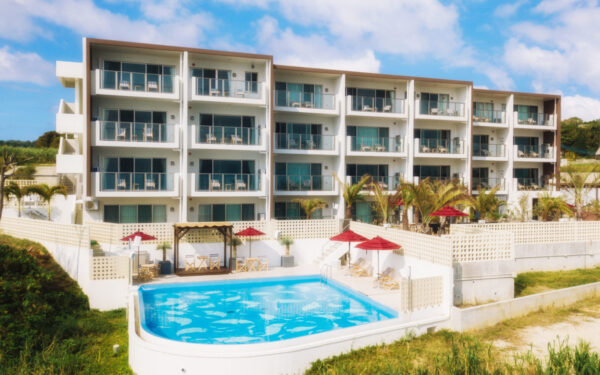 HIDEOUT OKINAWA URUMA, an accommodation facility that proposes resort life on the east coast of Okinawa Prefecture, opened on Friday, July 27, 2018.
BESTWAY Co., Ltd. (Headquarters: Meguro-ku, Tokyo, Representative Director Shiro Kuroda, inc.) co-established "RELAXING EAST" with Ryukyu BESTWAY Co., Ltd. (headquarters: Naha City, Okinawa Prefecture), a new group company established on November 20, 2017. OKINAWA" is a facility that will open HIDEOUT OKINAWA URUMA (location: Ishikawa Higashi Onna 1710-1, Uruma City, Okinawa Prefecture).The philosophy of the thought of "traveling as if to live" that we cherish became a project that has been active everywhere.
About the three management principles
Be "user first"
HIDEOUT OKINAWA URUMA is not a full-service hotel, but a condo space for you to spend your creative time.We try to provide a friendly service to ensure that our guests are comfortable.For example, the introduction of a self-check-in system, a food delivery service to make the most of the kitchen in the room (charges apply), and laundry facilities for staying for a long time with less luggage.As a result, rather than conventional services that spend a lot of time in operations, "to serve as a connector that connects customers, customers, neighbors, customers, Okinawans, customers, staff, etc. Friendly service is available.Of course, for customers who want to emphasize private life, we also maintain a reasonable sense of distance, such as taking care so that exchange does not interfere.I hope you enjoy your stay with the feeling of being invited to the house of a friend in Okinawa who is good at hospitality.Our staff of HIDEOUT OKINAWA URUMA is committed to welcoming our customers from all over the world as "one of our dearest friends."
Be "local first"
We started with "Snugness to okinawa's lifestyle" as an accommodation facility rooted in the ishikawa area of Uruma City, Okinawa Prefecture.HIDEOUT OKINAWA URUMA, adjacent to a homely high-end residential area for the Okinawa U.S. military family, is always open to neighboring residents.Enjoy time talking in the bar space at the entrance, play with children in the botanical garden where you can run around barefoot, and be enveloped in the sound of waves in a beautiful pool with art.The time spent at HIDEOUT OKINAWA URUMA, where local and visitor boundaries are seamlessly connected and natural interactions are born, will surely be irreplaceable.
Be "Community First"
Looking at uruma City as a whole, there are so many creators living there.HIDEOUT OKINAWA URUMA has set its goal to become a "base for cultural information."We coordinated the room with an independent shop in the region as much as possible because we wanted our customers to enjoy a casual and relaxing Okinawa time to the fullest.Items of carefully repaired U.S. military payments, vintage lamps of the 60's that inherited generations, and american furniture that is rough and comfortable to sit on.Now that the wave stake in the independent from major capital has become apparent, we have stuck to "standard life".
About the logo
Hideout's symbol tree is a 150-year-old olive.
Pointed olive leaves are said to have a "evil" effect in Feng Shui, and they are popular as a symbol of peace that brings peace and peace.The logo with the motif of olives, which came slowly from Spain over 150 years, was produced by artist MHAK.His unique motifs (commonly known as Mokomoco patterns) that are built and repeated with curves are also depicted in the guest-only pool.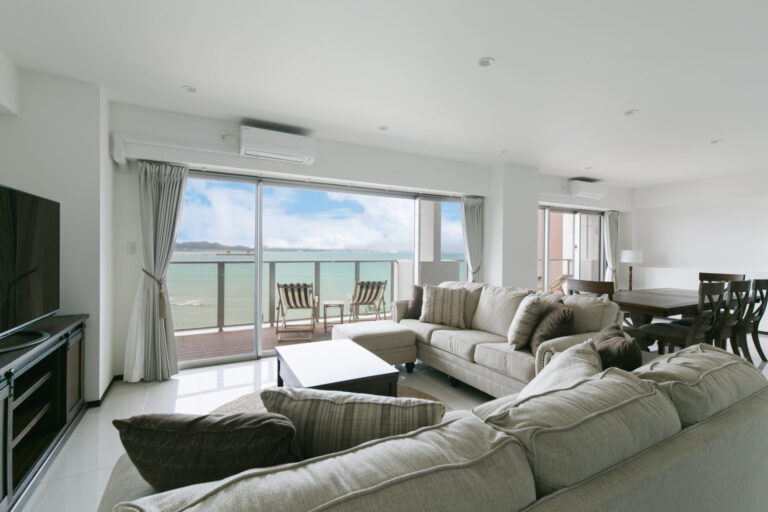 Basic information
Traffic
"HIDEOUT OKINAWA URUMA" is about a 10-minute drive from Ishikawa IC near Prefectural Road 255.
It is only 10 minutes from Ishikawa IC on the Okinawa Expressway.It has easy access to the main roads and smooth north-south travel.
It is also easy to access the underwater road, the longest drive spot in the East.
About 60 minutes by car from Naha Airport
Ishikawa Kaoru Cafe Street is about a 7-minute drive away.
Surf point kombu beach (Tengan) in front of
About 35 minutes by car to Koki Beach
About 18 minutes by car to Bios Hill
About 30 minutes by car to the underwater road
Address
Ishikawa Higashi Onna 1710-1, Uruma City, Okinawa 904-1111