RC (reinforced concrete) construction
Reinforced concrete is a method most commonly used for constructing concrete apartments. It can accommodate complex building shapes, and also offers airtightness, sound insulation, fire resistance, and high durability construction.
Resistance to shaking during earthquakes is a feature
This material offers great structural features, but has one weakness; it is heavy. It requires strong ground, and depending on the site, it can involve higher building expenses due to ground strengthening/improvement and foundation work.
In addition, since it is air-tight, condensation does occur, which requires processing for thermal insulation.
In other words, aside from its high cost, RC construction equals or surpasses wooden or steel frame construction in every way.
In some cases, for large-scale buildings and other mid-to-high-rise buildings, builders use steel reinforced concrete (SRC) construction, in which steel frames are laid out within the concrete.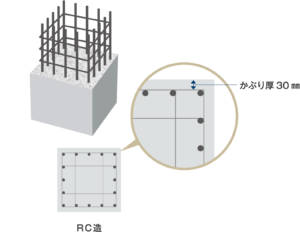 "Ramen" method
This is a widely used method in which buildings are supported by a combination of columns and beams. Aside from excellent shockproofing and durability, it also offers a great degree of freedom in design, since the size and position of partition openings can be freely set.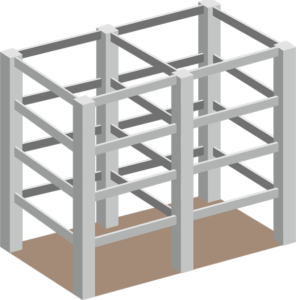 Wall construction method
This method uses the walls to support the building, instead of columns and beams. Generally used for 5-story low-rises through to mid-size buildings, this method of reinforcement distributes weight among columns and beams set within the walls.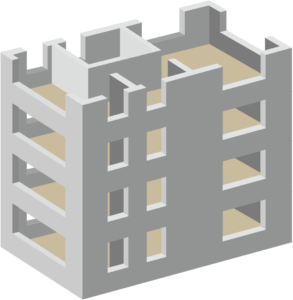 Heavy Steel Frame Construction
The steel frame method uses a combination of pillars and beams of steel
This includes the "ramen" construction method, which is joined by welding junctions of the main structure, as well as the bracing method, which achieves reinforcement using braces
There is also the method known as "S-ALC construction," which utilizes lightweight foam panels in a steel framework
All these methods boast higher strength than wooden construction methods, as well as offering superior earthquake resistance.
Furthermore, because of its light weight compared to reinforced concrete, steel can be utilized for longer beams and wider pillars. This cuts down on the required number of beams and pillars, making any future renovations easier.
Steel does have some weaknesses. It is susceptible to heat, and because it is a ferrous material, rusting may occur, which degrades its strength. If proper anti-corrosion treatment, insulation work, and anti-fire treatment are carried out, steel construction can offer comfortable and continuous use.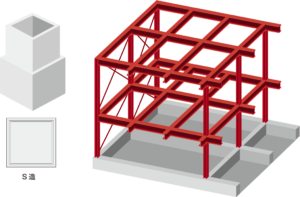 Wooden construction
With its high quality, low cost, and great moisture absorption, wooden construction is still widely used in Japan. There are several different methods of wooden construction, and in recent years wooden houses have demonstrated improved earthquake resistance.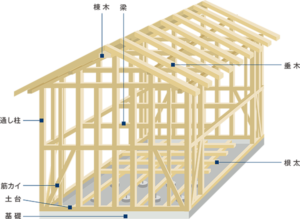 Conventional construction method
The majority of wooden buildings over 100 years old, including many temples and shrines, were constructed using this traditional construction method. It offer high strength, lightweight construction. Ventilation is good, and this method imparts a characteristic airy feeling, often featuring attics and spaces under flooring.
2 × 4 method
This method, which originated in North America, demonstrates strong resistance to earthquakes and typhoons, due to structural designs that resist external forces. It is characterized by excellent air-tightness and thermal insulation. It is ideal for Western-style housing, including imported housing.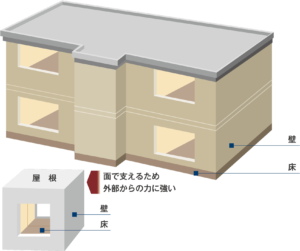 We use durable high-strength 100-year concrete
According to architectural work standard specifications recognized by the Architectural Institute of Japan, 100-year concrete has a standard design strength of Fc30N/m2, and can last 100 years without needing large-scale repairs. However, this "100 years" is a theoretical value.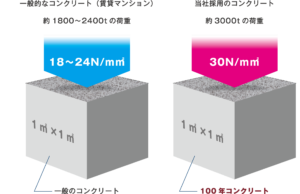 外壁構造概念図
※物件の特性により採用コンクリートが変更になる場合があります。
Outer wall structure
This method uses double layers of steel rebar distributed through the concrete. The interior side of outer walls are insulated, which enhances its thermal insulation properties.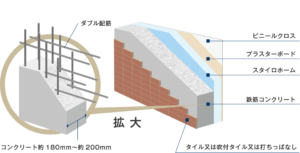 Outer wall construction (formwork)
Using the FRP molds simplifies the process (compared to conventional veneer molds), enabling shorter construction and external finishing cleanup times.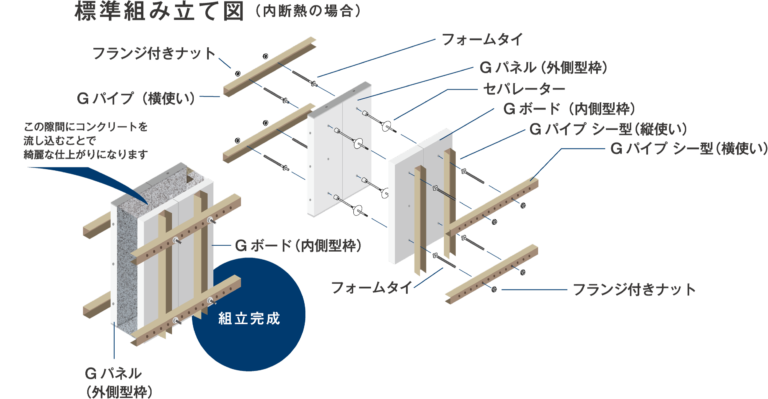 Piling construction method
Our buildings are supported by reinforced concrete piles sunk deeply into the supporting ground layer. These firmly support the building under normal conditions, as well as ensuring that it has the strength to resist earthquakes. Please contact us for further details.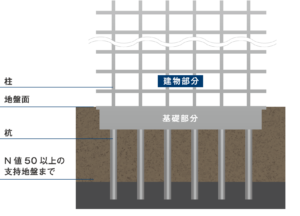 Direct foundations
Direct foundations are used when the ground offers good support. The building's foundation is encased in reinforced concrete, offering stable structural support directly below the building.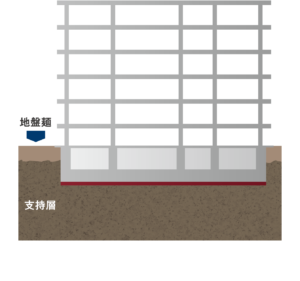 Floor structure
We use sound insulation for soundproofing between upper and lower floors. We ensure our wooden floors are about 180mm thick, which makes for excellent sound insulation.